A NEW superamphiphobic material can 'bounce' water droplets from air and the new system could produce ultra-fog resistant car windows and faster drainage systems.
The bumpy skin of a desert beetle has inspired the creation of a new device that can harvest fresh drinking water out of thin air.
According to a paper recently published in Royal Society of Chemistry journal RSC Advances, a team led by Youfa Zhang of Southeast University, China, discovered they could create a simple paint that mimics the way a beetle's skin both attracts water and then repels it towards its mouth – allowing it to hydrate in even the most arid of environments.
By coating two facing surfaces with this paint, condensed water trapped in air can be 'bounced' together into droplets, resulting in them falling into a collection vessel below, and because the system is passive, it doesn't need power to collect the water.
Dr Zhang commented on the research: "About two-thirds of the world's population suffers from a serious water crisis, and about 10% of the world's fresh water resources are stored in the air.
"Being able to extract this water from the air in areas affected by drought has long been an ambition of scientists around the world.
"The design of the hybrid coating was inspired by the structure of the desert beetle's back, but our coating will have better performance, meaning water vapor can condensate very quickly on the coating and can also leave the surface very fast, leaving the surface ready to collect more water."
The solution, which can be applied as a spray, could also result in new water proof clothing, fog-resistant car windows and extremely rapid water drainage.
But it was in fact the leaves of the lotus flower that first led the team to investigate what solutions nature had to produce ultra-repellent, or superamphiphobic, materials, in a bid to try and improve the efficiency of air-conditioning units.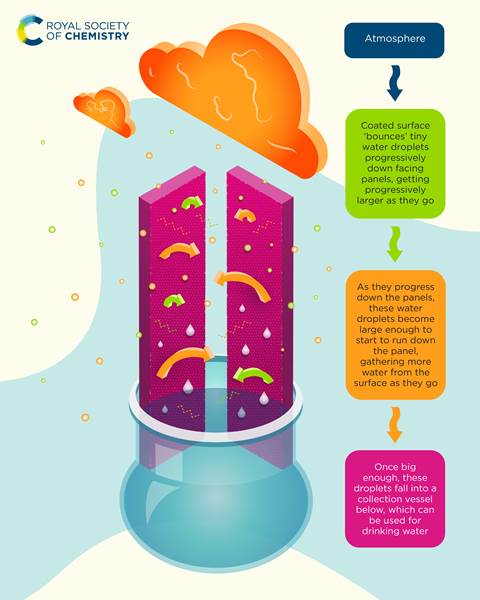 Dr Zhang continued: "Our initial inspiration came from the self-cleaning property of lotus which inspired a lot of research to develop new materials of waterproof, anti-condensation, anti-frosting and anti-icing.
"However, water vapor cannot condensate on the coating very quickly resulting in the limited enhancement of heat transfer.
"When we looked at the desert beetle instead, it inspired a new strategy of the hybrid coating where the condensed droplets form together quickly and leave the surface once big enough.
"We found the hybrid coating is beneficial for collecting water in foggy, arid or semi-arid areas and coastal land, and shows higher performance than the traditional and commercial method.
"In recent years, the supply of fresh water resources has been a severe global challenge, and we hope that this research result can be applied to water collection and make a contribution to solving the problem of water shortage."