OWNERS of a nervous dog in Cheshire have praised Cadent workers for being considerate  towards them while they carried out work outside their home.
Pauline and Ron Adams, from Northwich, sent in from their bearded collie Chester to express their gratitude to the team working for gas network Cadent.
Chester is afraid of loud noises, which was a challenge as engineers were putting in new underground gas mains, using big machinery to dig deep into the road.
But whenever Chester's owners left home with him for a walk, they'd stop work temporarily and only resume once he'd gone by.
This simple kind gesture led to a letter from Chester being sent to Cadent HQ.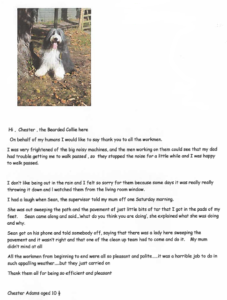 Sean Somerville, the site supervisor mentioned in the letter, said: "This is big but necessary work we're doing to upgrade some very old gas mains and we appreciate all the patience and support we're being shown as we get it done.
"I've passed this feedback onto the team – Shane Mulhern, Danny Gallagher, Raymond Higgins and Myles Livesey. Their small gesture has clearly had a big impact. We try very hard to keep our customers happy, whether human or canine!"
The work in Northwich is part of a major programme of mains replacement being undertaken by Cadent as it replaces ageing metallic mains.
Some date back to the 19th century and now need replacing to ensure safe and reliable supplies of gases.