National Grid Electricity System Operator (ESO) is launching 'a world-first' programme to build a digital replica of the entire GB energy landscape, creating a virtual environment to share data, model and predict scenarios that support the decarbonisation of the energy system.
According to the creators, the Virtual Energy System will be a digital twin of the existing physical energy system, working in parallel to enable 'an accessible, unified, real-time view of every part of the GB energy system.'
Fintan Slye, Executive Director of National Grid ESO commented on the announcement: "Great Britain's energy system is made up of multiple component parts which combine and interact to deliver the energy we need.
"Whilst the journey towards a carbon free future has already begun, if the UK is to meet its 2050 net zero target, it's vital the whole energy industry works towards decarbonisation together.
"As we evolve and transition to a greener future, we'll need to respond to a range of future challenges. And how we innovate and adapt the energy system will require a range of tools, which is where the Virtual Energy System comes in – a shared, digital national asset to help optimise the route to net zero.
"This is an ambitious world-first programme, and we can't build it alone. We need to come together, as an industry, to help turn this vision into a reality if we are to realise a sustainable energy network for the future."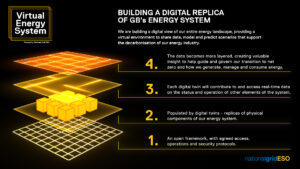 National Grid ESO will be launching the Virtual Energy System at an industry event during COP26.
It will then host a free-to-access one-day online conference on 1 December, providing an opportunity for the energy industry and wider stakeholders to find out more about the programme and how to get involved with its design and development.
Panellists include Ofgem, BEIS, Energy Digitalisation Taskforce, Energy Systems Catapult and more.
More information about the Virtual Energy System is available on the National Grid ESO website.