An immersive display boasting a real piece of 'borrowed' Cumbrian peatbog to highlight the critical importance of UK peatlands to our climate, and urging gardeners to ditch using peat, has won a gold medal at RHS Chelsea Flower Show.
The unique exhibit is designed by the Eden Project and presented in partnership with peat-free compost maker Dalefoot Composts and uses a little piece of Cumbrian peatland on loan under special license from Natural England.
In the Discovery Zone display at the show, gardeners are invited 'to step into' Bolton Fell Moss National Nature Reserve (NNR), a restored Cumbrian bog previously used to harvest peat for horticulture, to experience the secrets, sounds and beauty of these enormous bog gardens.
They can hear sounds from a peatland – curlews, lapwing, the hum of billions of insects and the occasional squelch – whilst getting up close to the fascinating bog plants – sphagnum mosses, cotton grass, cranberries, and heathers.
The peatland display is being given expert care whilst at the show to make sure it remains hydrated and will be returned to its natural home once the flower show has finished.
The aim of the exhibit is to demonstrate the importance of peat bogs and the environmental damage gardeners are causing to our planet by using peat compost in their outdoor spaces.
Tracey Smith, Eden's Commercial Manager, commented: "We're delighted to have received this gold medal – thank you to the judges and everyone who has visited the stand for their enthusiasm and kind comments!
"It's really exciting for Eden to be back at the Chelsea Flower Show with a stand that highlights the huge importance of peat bogs and we hope that visitors will come away with a greater understanding and appreciation for these vital habitats.
"Working alongside our friends at Dalefoot, our aim with this stand was to change people's perceptions of peat bogs, showing that they are thriving environments, rich with biodiversity as well as being crucial for carbon sequestration. We'd urge all gardeners to make the switch to peat-free products – it's the best decision for your garden and for the environment."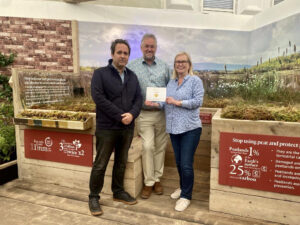 Alongside the peatland, a bountiful potager of vegetables and companion planting grown by gold-medal-winning Pennard Plants, illustrates what gardeners can achieve in their own plot by switching to peat-free gardening. All of these plants have been grown in Dalefoot Compost's peat-free products which are Soil Association-approved for organic growing.
The timeline of a bog is illustrated in the RHS Chelsea exhibit to show the thousands of years peat represents. Peat grows at only 1mm per year and this is contrasted to the bags of peat compost it yields and the short season of growth that peat gives gardeners.
Peatlands only occupy about 3% of the Earth's land surface but are the largest terrestrial carbon store on the planet. UK peatlands cover around 12% of its land area and store 3.2 billion tonnes of carbon, more than twice that of the UK's forests according to International Union for Conservation of Nature, as well as being very important habitats for biodiversity.
Whilst the Government has set targets for peatland restoration and is currently consulting on a peat 'ban', in amateur gardening there remains a significant resistance to switching to peat-free and it is predicted even more peat could be used in the future.
Of the 5.44 million cubic metres of growing media used in 2020, 79% was used by amateur gardeners. Two-thirds of peat sold in the UK is from Europe, meaning we are effectively exporting our carbon footprint.
Voluntary targets set for peat sellers have had little impact and the new target of ending peat sales by 2024 is being questioned for being 'too slow' and 'not enough.'
The display is the latest initiative by Dalefoot Composts and the Eden Project to promote the sustainability benefits of peat-free gardening.
Professor Jane Barker is the co-founder of Dalefoot Composts, a peat-free compost manufacturer and a leading restorer of damaged peatlands, including the Bolton Fell Moss NNR site in Cumbria, added: "We're absolutely thrilled by this award and so pleased that peat-free gardening is being recognised in this way.
"I hope people visiting our special piece of Cumbrian peatland will come away understanding why using peat is no longer acceptable, and how easy it is to make simple climate-friendly switches in your garden."
Bolton Fell Moss is a lowland raised bog damaged through commercial extraction of peat but has since begun a journey of restoration thanks to an ongoing project by Natural England. Extraction ended in 2013 but left a vast expanse of dry, bare peat where limited wildlife could survive.
Restoration work has raised the water levels; bog vegetation was then introduced but it will take time for the sphagnum mosses to cover the bare peat and for other bog plants to return. It could take up to 30 years for the bog to fully recover.