Zoological Society of London (ZSL), which runs ZSL London and Whipsnade Zoos,  is urging world governments and policy-makers to put nature at the heart of all decision-making to jointly tackle the combined global threats of climate change and biodiversity loss, and will be calling on leaders to make this commitment at COP26.
Ahead of Great Big Green Week, a national week of events celebrating action on climate change, ZSL has shared some of the behind-the-scenes work at its London Zoo HQ to achieve its own eco goals – to halve the historic Zoo's carbon emissions by 2030.
ZSL London Zoo's Chief Operating Officer, Kathryn England, explained: "ZSL's science and conservation supports wildlife across the globe, and at ZSL London Zoo it's no different – we put nature at the heart of everything we do and are continually searching for ways to improve sustainability and reduce our impact on the environment.
"For example, Giants of the Galápagos – a new home for our giant Galápagos tortoises Dolly, Polly and Priscilla opening in October – has been designed to minimise the amount of energy used for its heating, cooling and lighting.
"The new space needs to be kept at a balmy 27 degrees to create the right environment for the tortoises to thrive, so our designers had to explore sustainable alternatives in order to reduce our impact on the environment while still creating the perfect home for the trio."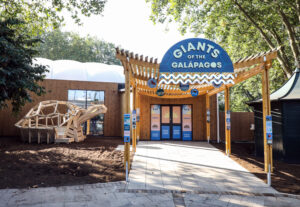 Sustainable timber was sourced for its construction and a low-carbon air-source heat pump was installed to provide the all-important Galápagos heat.
"Insulation panels in the walls help retain the warmth, while the roof includes an insulating air-pillow layer that allows UV to pass through – meaning sunlight can help warm the interior while providing natural daylight for the tortoises, the plants in their new home and of course, our visitors," Kathryn added.
ZSL London Zoo reports to have been the first attraction in the UK to eliminate single-use water bottles in its shops and catering outlets as part of its 2016 #OneLess campaign – instead, visitors are encouraged to use refill stations on site to top up reusable bottles.
Elsewhere, herbivore poo and bedding are collected daily to be composted on local farms, fresh herbs are grown on site for the animals to eat, and zookeepers even recycle old fire hose donated by local fire stations into enrichment for the animals – weaving the tough material into scratching posts and balls for the Sumatran tigers and Asiatic lions, or new swings for the primates.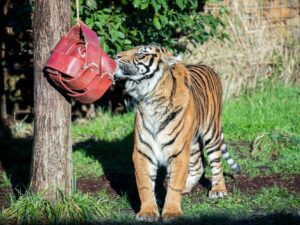 The Zoo's horticulture team also ensures patches of wildflowers grow undisturbed across the 36acre site, to provide space for native species to thrive.
"Great Big Green Week is an opportunity to explore how every decision we make has an impact on the planet and demystify which small changes can add up to a big difference," explained Kathryn.
"With the world facing dual crises of climate change and global biodiversity loss, it's vital that world leaders start putting nature at the heart of decision-making, but we can all make a difference too – whether that's walking instead of driving when possible, turning off the taps when we're brushing our teeth, or making meat-free Mondays a family event.
"We've made – and will continue to make – substantial changes to reduce our impact on the wildlife all of us at ZSL work so hard to protect; we hope that during this nationwide, week-long celebration of action on climate change, people up and down the country will be inspired to follow suit, as we prepare to call on world leaders to do the same."
To celebrate Great Big Green Week, ZSL has shared seven simple actions everyone across the UK can take to combat climate change and biodiversity loss.
These, and further information about ZSL's sustainability work can be found on their website.